Orders are usually ready to ship in 2 business days or less.
---
Muzzy's Texas Five-Pack
Get all five flavorful Texas Seasonings at a special price! One each of Texas Jalapeno with Cilantro, Texas HEAT, Texas Fajita, Texas BBQ Rub and Texas Chipotle. Makes a great gift!
Price: $25.00 each
View Cart
---
Texas Jalapeno Seasoning with Cilantro
Our best selling seasoning! An exciting blend of peppers and spices that provide a zesty burst of spicy seasoning to perk up your favorite dishes. Especially tasty on poultry, vegetables, potatoes or even sprinkle some on your ground beef before grilling hamburgers! Simply use it instead of salt and pepper. 7 ounce shaker bottle.
Price: $5.75 each
View Cart
---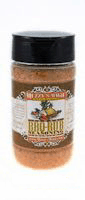 Texas BBQ Rub Seasoning
Simply one of the best BBQ Rubs around! This family recipe includes sugar, chili pepper, paprika, garlic and onion. Sprinkle or rub generously on brisket, steak, ribs, pork or chicken 10 minutes prior to grill time, or rub in and dry marinate for 2-3 hours under refrigeration. 7 ounce shaker bottle.
Price: $5.75 each
View Cart
---
Texas HEAT Seasoning
This is the seasoning that started our business! Texas HEAT Seasoning was inspired by our Cajun family recipe that has been handed down for generations. The cayenne peppers and garlic give it that unique hot and spicy flavor. Sprinkle it on steaks and poultry or use it in a shrimp, crab or lobster boil. Wonderful on salads, potatoes and French fries! 8 ounce shaker bottle.
Price: $5.75 each
View Cart
---
Texas Fajita Seasoning
A zesty blend of garlic, onion, black pepper and lemon oil will give your fajitas that Texas taste! Sprinkle lightly on poultry, beef skirt or similar steak and let marinate for 45 minutes. Sear meat quickly over hot coals to seal in juices then continue to cook at lower temperature until done. Do not over cook. Slice meat in small strips cutting against grain and place inside hot tortilla. Add sauteed strips of onion, bell pepper, grated cheese and sour cream. Superb! 9 ounce shaker bottle.
Price: $5.75 each
View Cart
---
Texas Chipotle Seasoning
Our newest seasoning! Our Texas Chipotle seasoning is a Cajun twist on a Southwest favorite. An all natural blend of dried chipotle peppers combined with roasted garlic, onion, and lemon oil that will add a wonderfully smokey kick of heat. Perfect for chicken, steak, ribs, rice, vegetables or beans. Simply sprinkle a generous amount on both sides of the meat of your choice and massage thoroughly. Allow meat to rest for 15 minutes, then cook to desired doneness. For best results, let marinade overnight. 8 ounce shaker bottle.
Price: $5.75 each
View Cart